A family owned holiday home on the Llyn Peninsula close to "Hells Mouth"
Offering spacious and comfortable self catering accommodation for six people.
Only a few minutes walk to Porth Neigwl also known as "Hells Mouth" which is a four mile long sand and pebble beach where many forms of wildlife can be observed. It is recently becoming popular as a surfing location although the vastness and remoteness of the beach means it is never crowded.
About three miles away is Abersoch.
Abersoch is ideal for the family and boating enthusiasts, its gently sloping beaches make it a great place for paddling and swimming in the sea. Small craft can also be launched for a small fee. Abersoch also has some good eating and drinking establishments and a scattering of quite unique shops.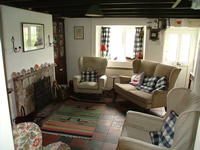 The lounge has seating for six people and an open fire. The whole cottage is heated by storage heaters but the open fire makes a welcome addition on a cool evening. There is a radio and a selection of books and board games available however there is no television at the cottage. An old family tradition dictates that when we are on holiday we do something different.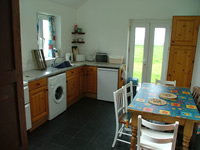 The spacious kitchen is fully equipped with Cooker, Fridge with Ice Box, Washing Machine and Microwave. There is also a large array of cooking utensils.
A family sized dining table is also provided.
The cottage has a ground floor twin bedroom and a further twin bedroom and double bedroom on the first floor. There is also a ground floor bathroom with bath and shower cubicle and a separate room with toilet and hand basin.
Bed linen is provided but please bring your own towels.